A series of tornadoes in Texas has initially reported at least six people dead, and 37 injured on Thursday, May 16, 2013. The city of Granbury, 35 miles southwest of Fort Worth, appears to have been struck the worst.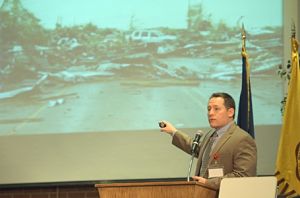 Dr. D. Sean Smith shows photo of tornado
ravaged Joplin, MO from 2011.
The tornado created a mass trauma event, unlike any other ever seen in the area. Dr. Kyle McCombs an emergency room physical and chief of staff at Lake Granbury Medical Center is reported in the New York Times as saying,  "For a hospital of our size, we've never seen a mass trauma event like this… we had serious, major trauma, and a lot of it."
Supporting the continuum of health care in emergency situations, like a tornado, was the focus of a recent Adelphi University symposium.  On the heels of Hurricane Sandy, the Adelphi Center for Health Innovation invited a panel of health care experts to share their expertise with attendees. The experts included featured speaker Dr. D. Sean Smith of Joplin, Missouri who like his Texas counter-part, Dr. McCombs, runs an emergency medical facility, Mercy Clinic, that was directly affected by a tornado.
At the Adelphi University program, Dr. Smith spoke of how on May 22, 2011, a tornado caused unprecedented destruction in Joplin, including this country's first direct hit on an acute care hospital. Smith assisted with the initial Incident Command Functions for St. John's Regional Medical Center.
In the fall 2012 semester, the Center for Health Innovation (CHI) had released a poll on emergency preparedness. The findings released showed that most Americans were not prepared for a catastrophic event. Over 1,000 adults over the age of 18 were surveyed in the university sponsored poll with highlights that included: 44 percent don't have first-aid kits; 48 percent lack emergency supplies; and 53 percent do not have a minimum three-day supply of nonperishable food and water at home. Ironically, soon after the poll was released, the region where CHI and Adelphi University is was critically affected by superstorm Sandy.
Another poll conducted focused on mental health in times of disaster asking if professionals in that field were prepared to manage clients in such situations. The Mental Health and Disaster Preparedness Poll found that most mental health professionals felt their communities were only somewhat prepared for a disruptive event.
Adelphi University's the Center for Health Innovation offers over 55 health-related academic programs across 7 schools and colleges. All contributing to an improved healthcare landscape. The university offers Emergency Management master's degree and certificate programs online.
About Adelphi: A modern metropolitan university with a personalized approach to higher learning.
Adelphi University is a highly awarded, nationally ranked, powerfully connected doctoral research university offering exceptional liberal arts and sciences programs and professional training with particular strength in its Core Four—Arts and Humanities, STEM and Social Sciences, the Business and Education Professions, and Health and Wellness. Adelphi is dedicated to transforming students' lives through small classes, hands-on learning and innovative ways to support student success.
Founded in Brooklyn in 1896, Adelphi is Long Island's oldest private coeducational university. Today Adelphi serves nearly 8,000 students at its beautiful main campus in Garden City, New York—just 23 miles from New York City's cultural and internship opportunities—and at dynamic learning hubs in Manhattan, the Hudson Valley and Suffolk County, and online.
More than 100,000 Adelphi graduates have gained the skills to thrive professionally as active, caring citizens, making their mark on the University, their communities and the world.