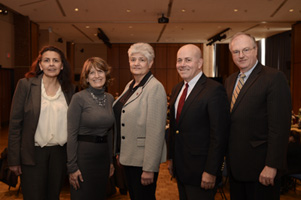 At its inaugural Center for Health Innovation (CHI) Symposium, Adelphi University released the results of the second Center for Health Innovation poll. This proprietary survey of mental health professionals was released as part of the symposium's continuum of care for the mental health patients panel.
Adelphi Center for Health Innovation Academic Director and School of Nursing Dean Patrick R. Coonan (far right) with a panel of experts including representatives from the Nassau County Department of Human Services, St. Luke's-Roosevelt Hospital Center, American Red Cross, and North Shore University Hospital and LIJ Medical Center offered their insights into the poll results and the regional implications of the findings.
» View results of the Mental Health Preparedness and Disaster Response Poll.